Products
---
THE WORLD OF A BEAUTIFUL DESIGN MESH
Design wire mesh is the new wire mesh excellent design in a variety of materials including stainless steel, brass and aluminum woven with a special technique. As a building material, now is featured material.
For example, attract the gaze of passers-by glow in the area at the entrance of the store or shop window, its varied or or used as a translucent curtains to show through the display, while effective security roll shutters. Indoors, objet space as a screen in the wall or ceiling, decorated with various colors with brilliant light. Hidden without disturbing features such as heating and cooling, sprinklers and soundproof materials to demonstrate its transparency. Serve with light, its own aesthetic landscape further using the appearance of the buildings and facades. Design wire mesh is the new material needs to functional design and variety, full of possibilities.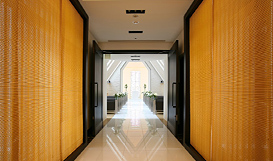 LUMIERE RIDEAU
LUMIERE RIDEAU's manipulation of light and shadow "stainless steel fabric".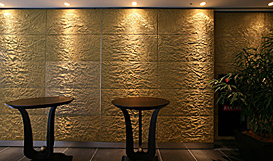 DRAGON'S SCALE
DRAGON's SCALE is by weave design of 8 types of wire mesh.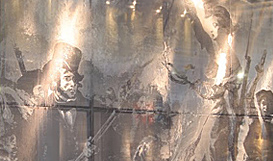 METAL FABLIC
The woven stainless steel threads create a multitude of expressions.
Copyright © Matsubara Wire Mesh Co., Ltd