Profile
---
THE CHARM OF THE DESIGN WIRE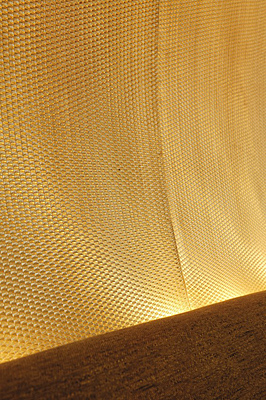 We are specialists in the use of decorative "wire cloth" with 80 years experience.
"Metal Tapestry," a new and unique woven fabric made of stainless steel, is created based on traditional weaving techniques. The stainless steel thread allows us to weave designs of various scenes and sizes.
Lighting brings out the beauty of our products, evoking the subtle flowing of water or the rich grandeur of a waterfall. Our Dragon's Scale plain weave realizes a delicate and relaxed expression within a luxurious space of gold and black.
The sophisticated lighting of soft materials achieved by our metal tapestry will layer your space with an Asian calm.
MK Design Mesh Co., Ltd.
6-1-25 Matsubara Ichioka
Osaka Japan 580-0014
Tel :072-333-2212
Fax :072-336-0363
Copyright © Matsubara Wire Mesh Co., Ltd